Soundblox playin' Rewrite by AKFG
well, i've made the songs in the soundblox downloadable.
[edited wed 28 july]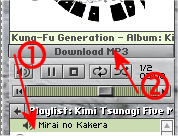 1. click on the song's name, and
2. click 'download mp3'.
[/edit]
oh, rewrite's not downloadable yet. gonna wait until the single release,
then
i'll make it downloadable.
and (this might turn off your excitement a lil bit) all mp3s are 64kbit. sorry, but unless anybody's willing to donate some space, that's all i can give.
love y'all anyways.
ThE

DeaTh

aNd ThE

StRaWBeRRy