In the mood for Rising Sun by Dong Bang Shin Ki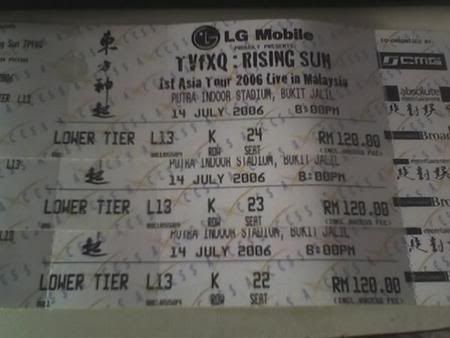 baru je balik dari konsert TVfXQ: Rising Sun Live in Malaysia. heh seronots gak nengok konsert bebdak korea ni. maklomlah tak penah gi nengok konsert mana2. jadi rasa a bit teruja walaupon at the beginning macam malas nak gi.
konsert start 20:30 hrs walaupun kat tiket tulis 20:00 hrs. masa tunggu tu punye la tensi, sebab dah masuk hall sebelom 19:30 hrs lagik. penat tau duduk je statik cam tu. nak bangun berjalan2, seat kat tengah pulak. payah nak klua masuk.
bila 20:30 hrs je, lampu tutup. montaj. baru bebdak dbsk masuk stage. dari atas. start2 je lagu yg aku familiar, tapi tatau tajuk. ahahaha macam tak caye je nengok diorang ni, live in person. si jaejoong muka kacak dah, sebab rambut dah pendek. kurang feminin, tapi still bishounen. yunho lak muka dia nampak kurus, tak chubby dah. changmin.. changmin comel! macam takuya, sebijik! cuma versi tinggi la. micky lak, rambut dia sungguh serabai. cia cakap macam momo dalam cite kimi wo petto. xiah, rambut dia buat dia nampak cam kepala bulat. all in all ok la appearance diorang. dah tu sepanjang konsert tak de pulak pakai baju mengarut2 kecuali si micky dalam lagu rising sun.
start konsert, semua lagu yg senang nyanyi dan tak banyak gerak. ok ah. tapi a bit kechiwa. sebab sebelom ni nengok konsert shinhwa & HOT (x live la) dia selang seli. dah lama sikit, baru la lagu tri-angle, tu pon miming. pastu dua lagu aku tak kenal. pastu lagu x banyak gerak lagi, baru cakap2, lagu x banyak gerak lagi. then... jejeng. super junior! seronots tul bila SJ masuk, macam beriye2 enjoying the perf eventho miming. start ngan lagu knockout. ahaaa suka sukaa. pastu sesi bercakap2. pastu sambung lagi perf. pastu dbsk masuk balik. nyanyi lagu tak gerak banyak. then.. lagu the way u are. seronots balik! hahaha :P montaj jap, lagu rasa sayang. eh.. rising sun la. seronots gak sebab 1st time nengok jaejoong nari lagu ni. dah tu ade cakap2 lagi, pastu lagu my little princess, pastu lagu dbsk+SJ, and abis.
masa lagu ape tah.. whatever they say kot, bebdak dbsk ni gi kat stage depan, pastu kena angkat tinggi. huhu gayat aku nengok. tapi cool je xiah ngan micky, siap lambai2. haha at least dapat nengok muka diorang dari dekat.
secara keseluruhan, ok gak la. cuma sikit tak pueh hati: 1. tak de solo perf cam shinhwa + HOT, 2. tak de lagu hi ya ya. hmm ade lagi tapi lupa.
ThE

DeaTh

aNd ThE

StRaWBeRRy