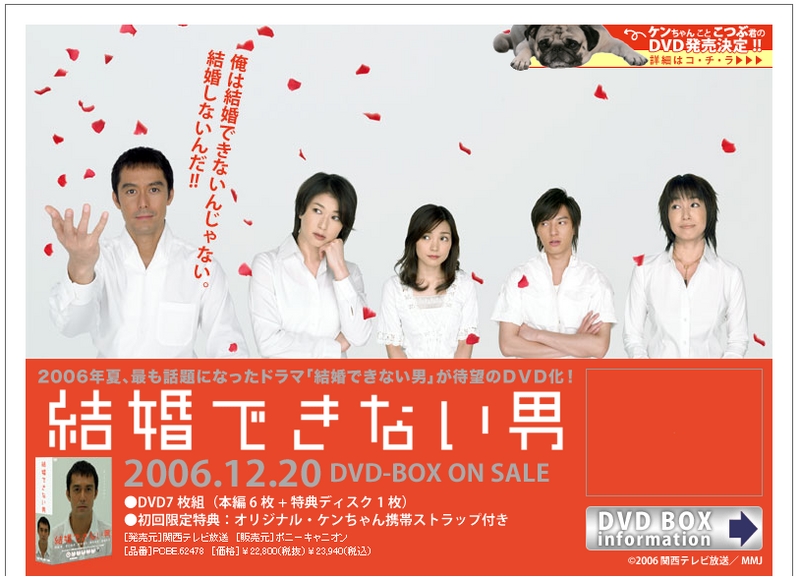 In the mood for Step by Step by Battle
ok... before anything, saje laa nak eksplen kenapa laa lama sangat tak update. the reasons are simple:
1. busy nak mam;
2. tak de idea; and
3. last post aku gambar chantek.. muahahaha!!
ok. back to the subject. achely aku baaaru je tamat menuntun citer
Kekkon Dekinai Otoko
(結婚できない男/The Man Who Can't Get Married / He Who Can't Marry)... berjaya jugak mengabihkannye setelah bape lama tah beli. achely citer dia agak menarik la jugak, but i dun think it wld appeal to ppl bawah 28 tahun. huh. tua dah aku. since dekat
web ni
ade sinopsis cerita, maka aku skip je la part tu.
sebab utama aku membeli cite tu ialah... abe hiroshi. harharhar :P tapi mmg aku suka aa tgk mamat ni blakon... walau macam mana tak beh pun watak dia. first tym aku nengok dia dalam citer antique. masa tu dia mmg sangat la menonjol sebab dah le tinggi, muka pun not bad la. and then setelah beberapa lama lepas tu bila aku nengok cite trick baru la teringat yang aku penah nengok mamat ni sebelom tu. jadi lepas tu aku pun mencarik la cite lain yang dia blakon... ade jugak dia blakon citer dragon zakura tapi aku tak nengok pulak cite tu... mebi later2 bila aku dah pindah opis ke kl aku sewa la kat kotaraya tuh hahaha :P
ape kaitan dengan tajuk post ni pulak? haha sebenanye saje la nak cite nih, mamat yang aku penah usha satu ketika dulu dah kawin... bulan 3 lepas. huuu melepas. mujur la bini lawa. kalau tak lawa tu musti aku regret sehabis2. so, aku consider meself as kekkon dekinai.. sampai la jumpa jodoh. harharhar.
tu je. ni aku sebenanye menaip kol 7 pagi. kepala pun dah senget. macam minah senget. so kesimpulannye kalau korang baca sampai ke ayat terakhir ni, aku nak ucapkan terima kasih la. ok. tu je. lenkali apdet lagi.
ThE

DeaTh

aNd ThE

StRaWBeRRy