In the mood for iklan aloe-kiwi andy harharhar sungguh comel
beh gilo cuti wiken yang lepas ni. empat hari tak buat ape2 muhahaha :P tak de la tak buat ape2, ade aktiviti jugak la. tapi tak de la berkaitan ngan keje. kire rilek2 jugak lah ahaks.
hari sabtu tu aku tak buat ape pun. ye lah, adek2ku sudah mau balik ke sekolah, jadik biar je la depa conquer leptop ni. aktiviti aku: dl dan tidow. harharhar:P oh ye, dan malam tu nengok citer 100 days with mr arrogant kat ntv. ala cite kim jaewon tu blakon. pompuan dia aku tak kenal pun. tapi ok la jugak citer tu. aku kasik 7/10.
hari ahad: aktiviti mengemas bilik. gile banyak la habuk... maklomlah dah lama asek tangguh je nak kemas. jadii... by the end of the day tak berenti2 la bersin. masa tu la terfikir nak beli vacuum cleaner macam ogawa mermaid tu. biar bersih sikit kandungan udara. sedap sket nak tidow.
isnin plak.. hmmm gi kotaraya ngan chia (chia cuti sem daaa) konon2 nak beli baju. sekali nengok kat sana tak de pulak kedai yang aku carik. dah tu dalam sebelom asar gi klcc plak, untuk solat & jumpa ain. lepas solat tu ade la dalam 1/2 jam lagi ain klua opis. so aku pon beli dua buku untuk bacaan suka suki:


hihih seronot!!! kipun joa~!! lepas tu jumpa la ngan ain... dapat balik koleksi naruto aku, yay! lepas ni buleh la tulong burnkan utk harpic nanti *sigh*. lepas tu gi cold storage, membeli itu ini (i bought this instant pasta, yum!!!) dan sebelom balik singgah jap kat strudels membeli carrot cake (sebab dah teringin sangat... takut kempunan je nanti, payah la kan) heiauheiauheiuhe :P dah tu sampai rumah, sambil basuh kain, layan cite ni pulak: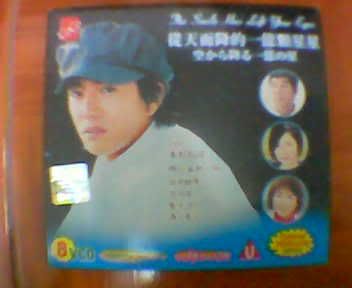 uhuh... agak depressing jugak cite ni.. tapi beh la jugak sebab takuya sungguh lain watak dia dari citer yg lain (alah bukannye aku nengok citer takuya sangat pun hahaha). nengok la dalam 4 cd, lepas tu dah tak tahan terus masuk tidow. tajuk dia? oh. Sora Kara Furu Ichioku no Hoshi [空から降る一億の星](One Million Stars Falling from the Sky / The Smile Has Left Your Eyes).
hari ni pulak... hu.. memang tak buat ape. selain sambung basuh kain (banyak tu kain yang nak dibasuh) nengok citer madagascar balik. gagagagaga seronot btul. petang nengok chunhyang skit (sebab chia belom nengok episod yang last tu - esok nak kasi balik kat fadi) pastu lepas semayang maghrib turun bawah masak pasta yumyumyumyum. layan tivi kejap sambil mengumpat.. pastu naik atas dan nengok cite full house (finally). lepas layan 2 episod, kepala pun dah tak larat nak sambung ke episod ke-3. jadiiii... ni lepas naip ni, aku surf2 jap, pastu solat, pastu tidow. ye la, kena tidow taim biasa la kan. harhar.
esok masuk keje balik. hmm.
ThE

DeaTh

aNd ThE

StRaWBeRRy