Winamp playin' Kimi To Iu Hana by Asian Kung-Fu Generation
warghhhh~!!! kenapa? kenapa?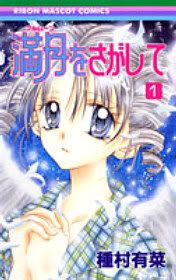 al-kisah...
dulu, dulu-dulu, aku ade la dl manga ni. manga yg bernama Full Moon wo Sagashite ni la. dl pon atas sebab saje je nak kasi chia baca. maklomlah nae dongsaengi nan sorang tu cukup suka membaca shoujo manga. alang2 dah jadi pelanggan tetap toriyamaworld taim tu, dl je la mana2 yg terasa nak dl. lepas dia masuk KMK, rasa malas la pulak nak continue mendl manga tu. lagipon TW macam malas je nak mengupdate manga nan satu ni (bukan satu sebenanye, tapi banyak!! tu es21 pun tak update2. DN pon baru sampai bape episod tah.. ihhh tensi tensi) jadi daku pon buat keputusan untuk berenti mendl. mana yg ade dalam pc ni pon dah buang je terus.
masa berlalu. sekali tu bila chia dah abih kat KMK, ade la sorang kawan dia menghadiahkan satu manga FMwS kat dia as a bithday present. japanese version punye lak tu. untuk makluman kengkorang semua, manga jepon paling2 murah pun daku rase dalam rm25. tu pun yang paling cikai aku rase. yg manga ni (2nd manga dia terima lepas bleach4, depan muka ishida) ntah la bape rega dia, lebih rm35 kot, tak ingat aku. dah tu aku pon cakap la, bakpeee laaa nak membeli manga ni (sebelom aku tau tu present dia, sebab kawan dia tu suka sangat membeli japanese version manga), beh sangat ke pasal budak kecik yg bercita2 menjadi idol ni? dia pun cakap, alah, biasa la kitorang (dia ngan member dia) suka baca shoujo manga (bila ingat2 balik, dia gak yang membeli komik sailormoon waktu kecik2 dahulu).
tak berapa lama lepas tu, dia beriye nak nengok anime FMwS ni plak. siap mendl bulk torrent. mujur by that time,
1. aku xde spes; and
2. BT yg aku guna tu, versi BitConjurer, jadi xleh select dl.
jadi, dia takleh dl langsung la. muhahahaha. mujur aku pun mengecheck, kalu tak pening kepala, camne buleh takde spes padahal b4 ni ade dalam 4gb tinggal. lepas tu dah takde ape berita dah. sampai la masa dia cuti raya baru ni. dia ade la cakap, anime FMwS cuma 52 episod je. 52?! FmA 51, BSSailormoon 49. uih, cam menarik je, tapi, MALAS. sebab, ye lah, sedangkan manga dia pun buang...
and then, ntah camne tah, aku terminat nak membaca manga dia lepas sampai kat satu site yg mengoffer online manga viewer. so, aku pun baca la dari last episod yg aku dl tu. uhh.. kenapa ni.. kenapa.. sangat tertarik nak baca.. uhh sidehnye.. uhh sungguh touching.. oh no! aku dah kena penyakit FMwS! proven by the fact that i read 5 volumes of manga in just one night! pastu, siap gi site lain untuk mendl last 2 volumes. huhhh..
lepas ni terasa nak dl anime dia plak.
ThE

DeaTh

aNd ThE

StRaWBeRRy